Potato Head Jazz Band is an Early  Hot Jazz, Swing and Dixieland band, formed by 6 members from different backgrounds: Granada, Cadiz, Cordoba, Italy and Argentina. These days it is considered by many to be the best band of this style in Spain, and without a doubt the one with the greatest recognition and international projection.
The group was formed in 2003 in Granada, Spain, with the specific idea of recreating traditional jazz from the first decades of the 20th century. With this goal in common, its experienced components begin to shape the particular style that today characterizes the Potato Head Jazz Band. A style that aims to fully respect the aesthetics and sound of the origins of jazz in New Orleans.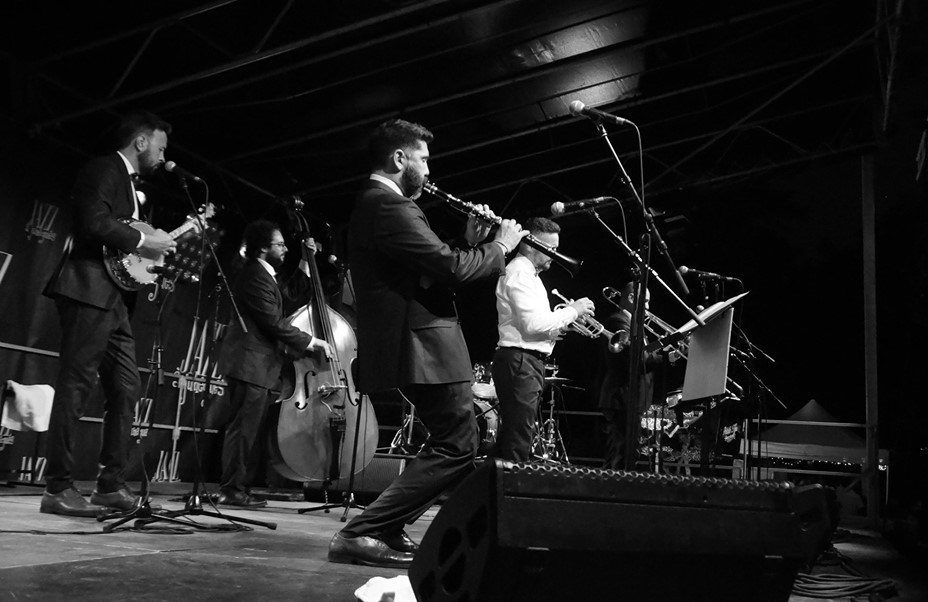 They have performed at some of the best European Jazz and Swing Festivals, being chosen "The most entertaining Band" after several appearances at Birmingham International Jazz Festival, UK.
It has also been the only band of this joyful style that has performed twice for Radio 3 Concerts on Spanish National Television.
In the summer of 2019 they had the opportunity to perform in France together with one of the best bands in the world, TUBA SKINNY, from New Orleans, USA, in an unforgettable "Jam Session" in which they played some of their favorite songs together.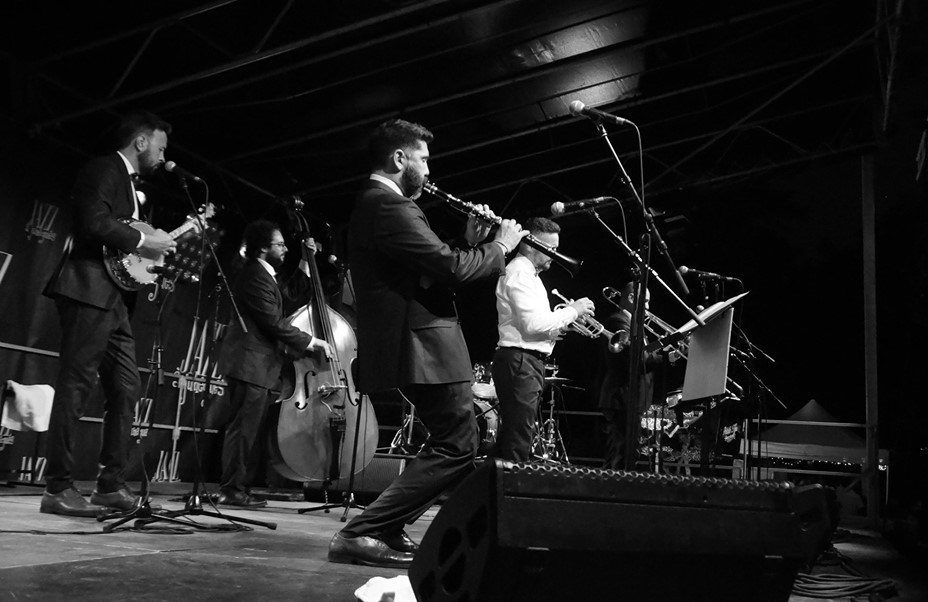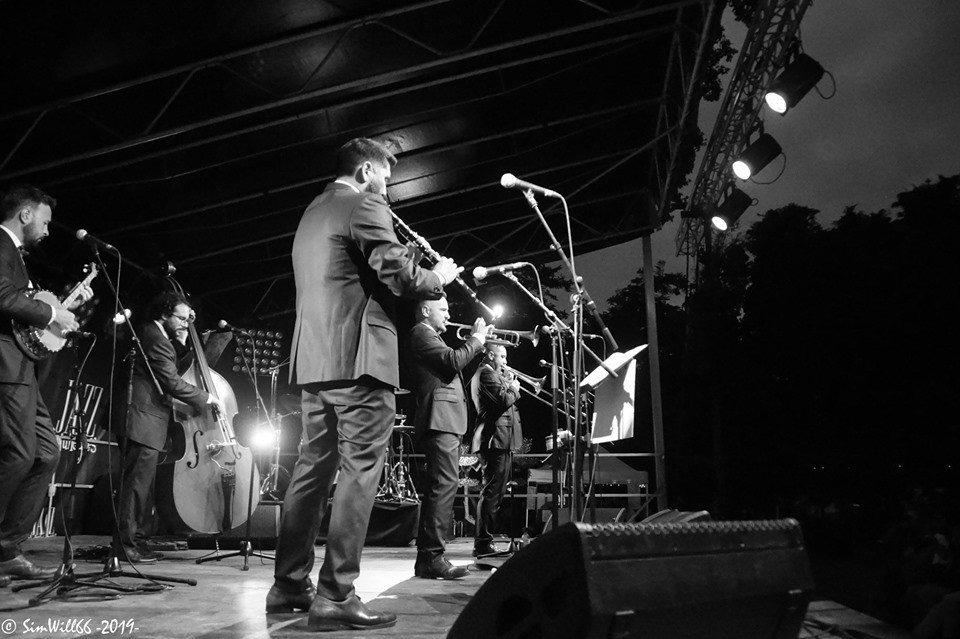 The sound of the band is clearly influenced by the origins of its musicians, who bring the unique "flavor" and energy on stage that characterize the band. Potato Head Jazz Band always offers a careful aesthetics combination on stage too.
Their wise mixture of music, acting, instruments, voices and good humor all together create a communicative show that invites the public to interact in an energetic and happy way.
Banjo, double bass, clarinet, drums, trombone and trumpet join together to offer a unique show starring the meticulous work that goes into each of its aspects: the music, the staging, the costumes and the musical language.
Potato Head Jazz Band  has 4 studio albums:
– "This is not New Orleans", an initiation album in which the band reviews some of the style's standards, it is a carefree approach to this music, in which their personal version of "St. James Infirmary" stands out among others, much applauded since its inception.
– "Like a child", formed by 12 songs and in which for the first time they include songs composed by themselves, as well as interesting arrangements and versions of some of the best traditional jazz hits.
– "Stompin´Around", which constitutes a milestone in the band's career. Acclaimed by specialized critics, this album has brought them unprecedented international recognition, having presented it at several European Festivals. Its good reception has led them to present it at the Great Auditorium in Dresden, Germany, within the framework of the most prestigious international Dixieland festival in Europe.
With a new line-up that includes the trombone instead of sax, in this new stage the band has taken a step forward in many ways, maintaining its sense of "show" but without detaching itself from good musical work and constant study.
– "Tight Like That", the band's most recent album released in 2022. The addition of a brilliant new drummer, Zeke Olmo, along with the purest traditional jazz repertoire and even their own compositions, strengthen the band's sound in a more personal sense.
Following the philosophy of this style of jazz, like the previous albums, they recorded it completely live, with practically no editing. This time they opted for the recording at Zeke Olmo's private studio, with only 2 microphones to record the entire session. It was possible to obtain a very natural sound and faithful to what the public would hear in an acoustic live show.
The repertoire includes less covered songs (mainly from the 1920s) which have been chosen for being some of the group's favorite songs, including some original compositions by the band's trumpeter Alberto Martín as well.
Recorded by Zeke Olmo and mixed by Alberto Martín.
who is Potato head jazz band?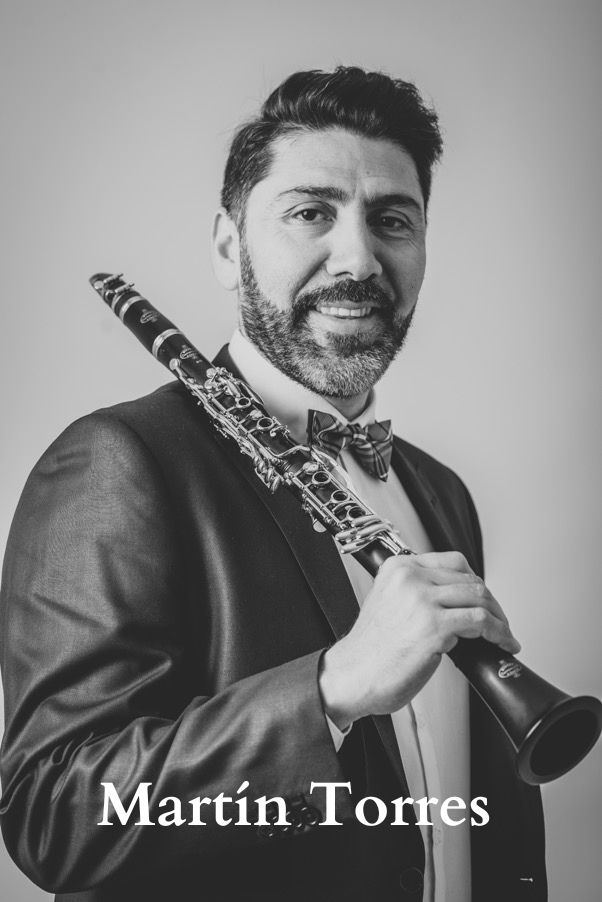 Martín Torres
Clarinet player from Cipolletti, Argentina
Begins flute studies being 6 years old and at 10 he changes this instrument for the clarinet. At that time he joined the Local Music Band and the Chamber Orchestra of Cipolletti.
In 1996 he began his classical training at the Patagonian University Institute of Arts where he studied for 4 years, in which he participated in the Patagonia Foundation Orchestra, the IUPA Youth Ensemble and the Neuquén Symphony Orchestra, among others.
At the same time, he became interested in traditional jazz and founded the Sureña Jazz Band, sharing the stage with the best bands in his country, such as the Porteña Jazz Band, Caoba J.B., Small J.B. among others.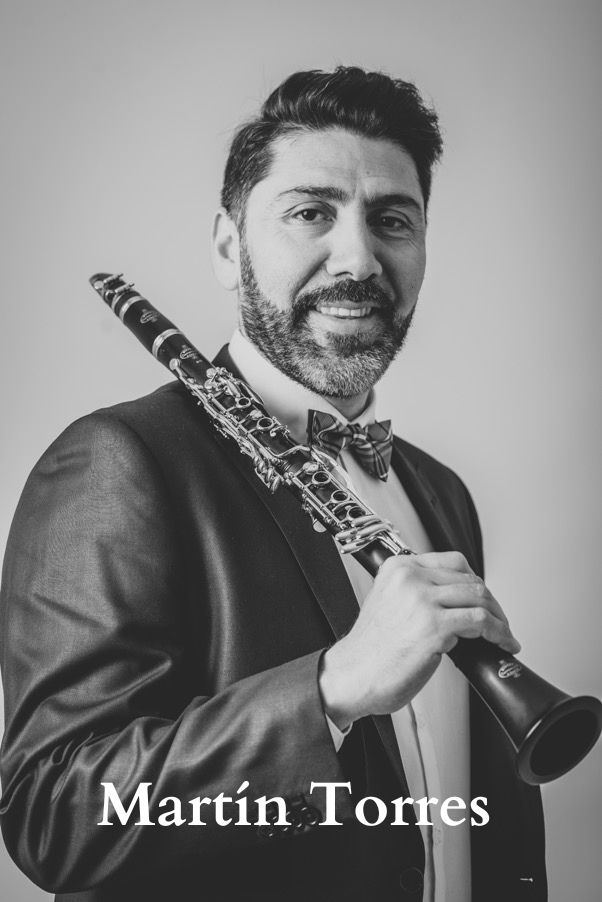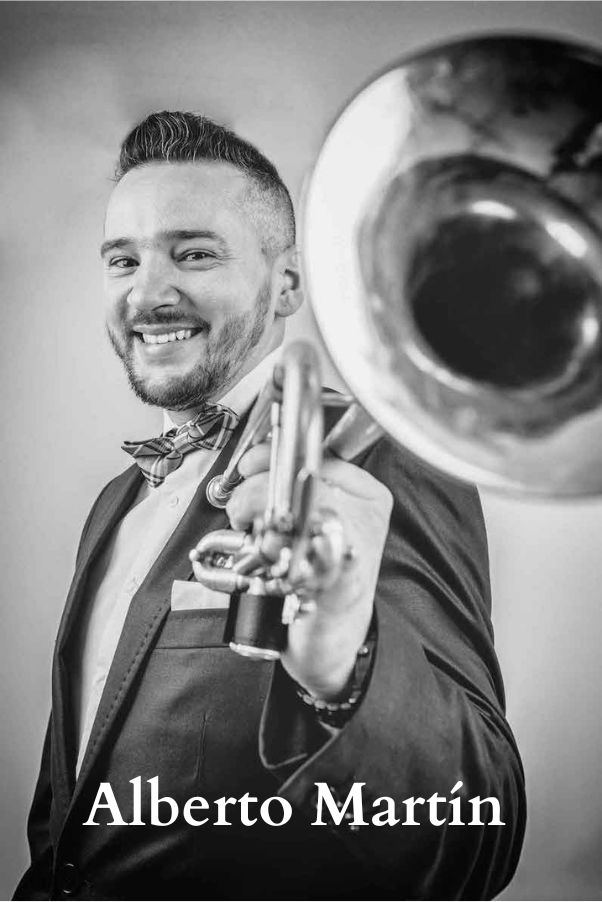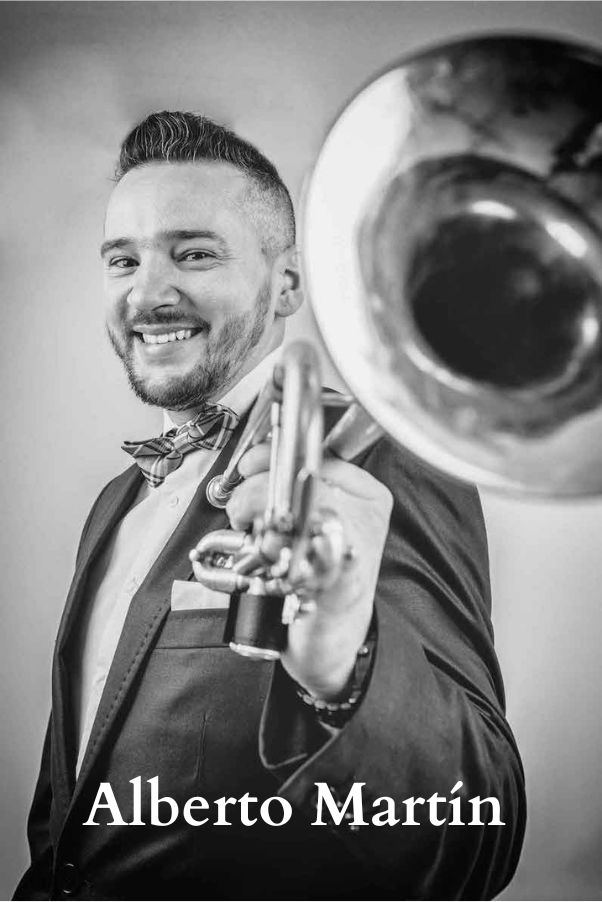 Alberto Martín
Trumpet player from Granada, Spain
He begins to play cornet at 11 years of age. Since he began his training in 1999 in modern music with the trumpet, he has achieved the maximum versatility that the instrument allows him.
Always interested in different musical styles, he developed his career playing jazz, but also Latin music and folklore from different South American countries. That is why he has participated in various projects collaborating with Roko, Martha High, O'Funkillo, David Murray among others.
He is currently in charge of the musical direction in Potato Head Jazz Band with whom he has participated in the best jazz festivals in the world such as Birmingham International Jazz and Blues Festival, Torreilles Jazz Festival, Dresden Dixieland Festival, New Orleans Meets in Zofingen, Rive Jazzy Festival.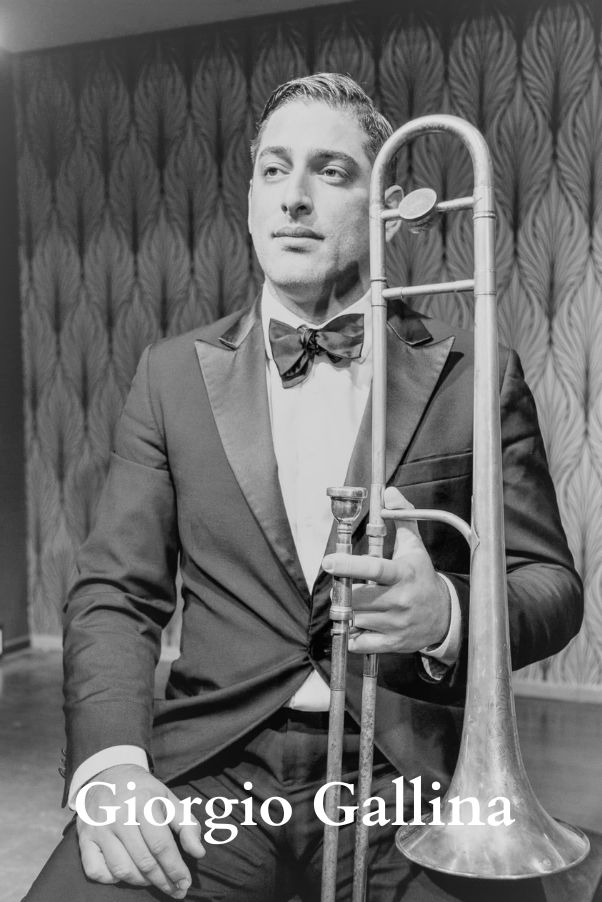 Giorgio Gallina
Trombonist from Milán, Italy
He began musical studies with the violin at the age of 6 and, at 13, began studying trombone at the Cantelli Superior Conservatory in Novara, where years later he obtained a master's degree in classical music.
In 2016 he settled in Madrid where he continues to deepen her classical studies at the Superior Conservatory of Madrid with teachers Elies Hernandis and Simeon Gandulf.
Since 2004 he has been part of the classic jazz band Chicago Stompers, first as a violinist and then as a trombonist. With this band he participated in renowned festivals such as Whitley Bay Jazz Festival, Ascona Jazz Festival, Breda Jazz Festival, Twinwood Vintage Festival, Balboa Castle Camp, among others.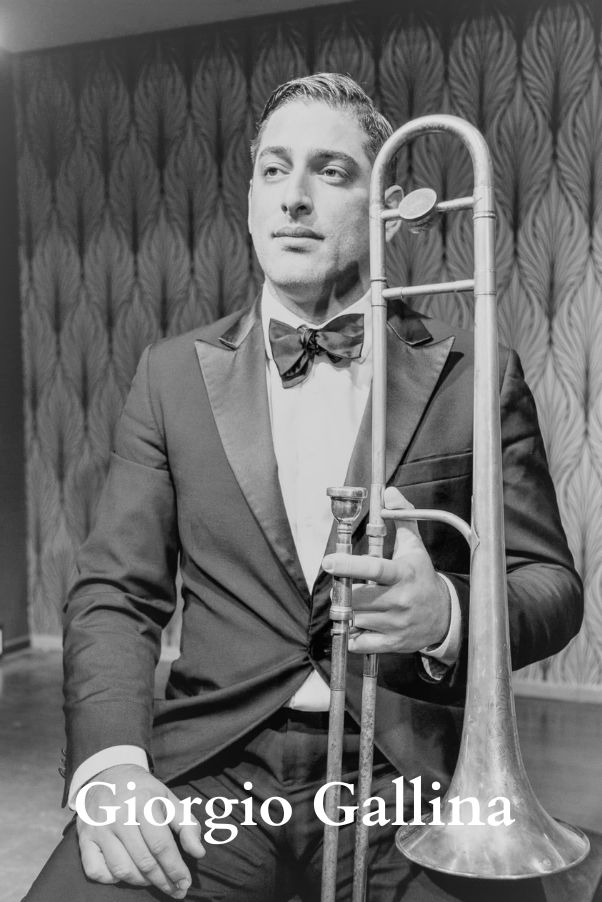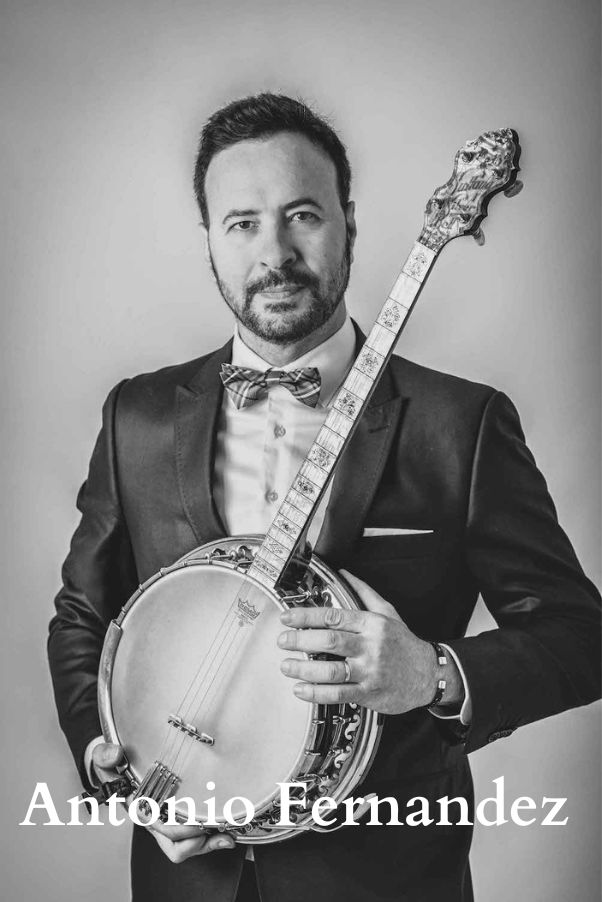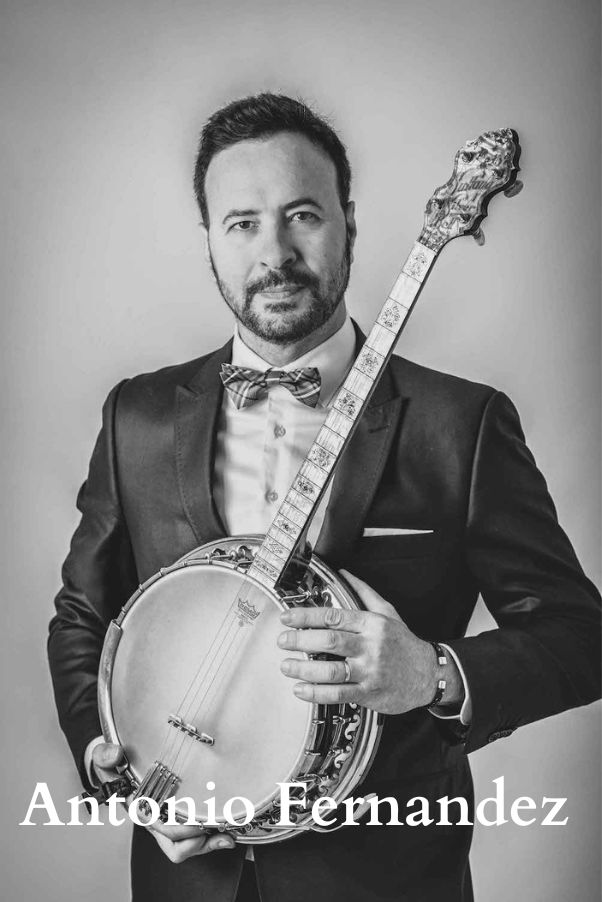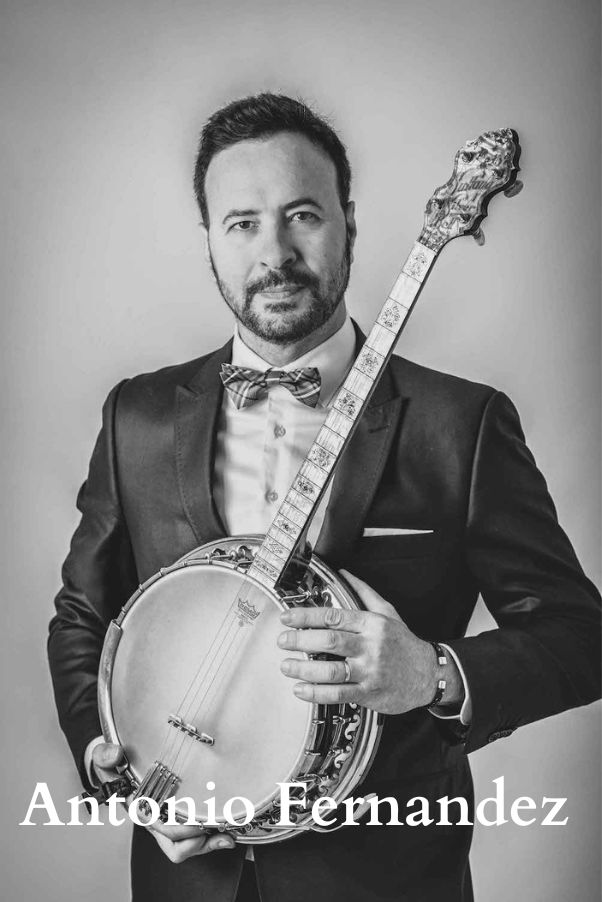 Antonio Fernández
Banjo and guitar player from Granada, Spain
He began his musical studies as a guitarist of various styles, specializing in flamenco guitar for many years. His passion for "vintage" sounds led him to discover the Banjo and to create various North American music rooted projects, among which his previous formation "Piccolíssima Jug Band" stands out, a tribute to the first "jug bands" of southern USA in the first decades of the 20th century.
In 2009 he joined the Potato Head Jazz Band dedicating his professional career to the tenor banjo, studying with some of the best current North American masters of the genre. He is a great admirer and scholar of ancient instruments, so in addition to always using original banjos from the 1920s, he is also one of the few Spanish musicians to incorporate the four-string "tenor guitar" of the jazz era into his sound within the band.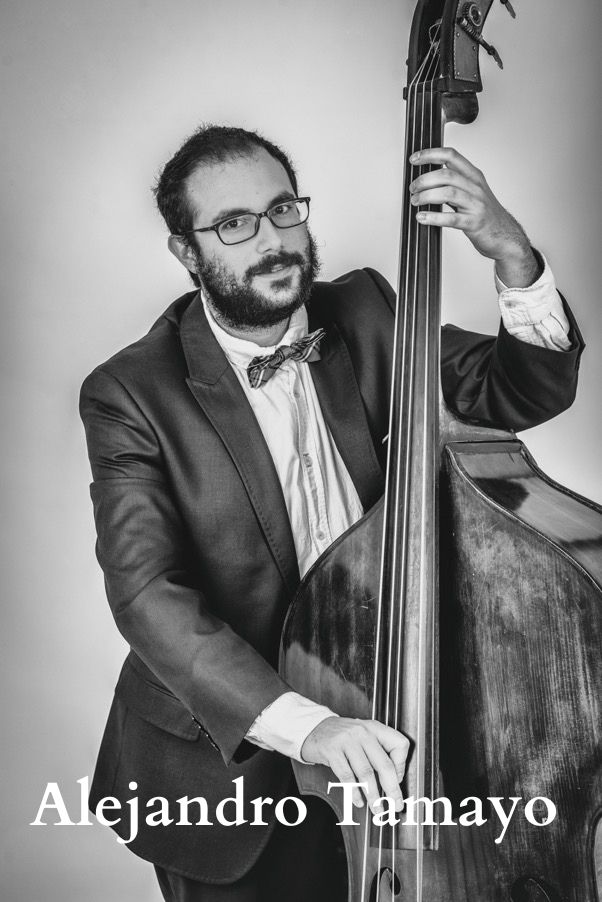 Alejandro Tamayo
Double Bass Player from El Puerto de Sta. María, Cádiz, Spain
At the age of 8, he began his studies at the conservatory in his home city and when he finished elementary school he changed piano for guitar, which he began to study on his own.
Years later he began to study, also self-taught, double bass until 2012 when he applied for the higher degree at High School of Music of Catalonia where he studied for 4 years.
He has shared stage with musicians such as Javier Ruibal, Alejo Martínez, Manolo Perfumo, Jorge Rossy, Jose Quevedo "El Bolita" or the cantaora "Argentina", recording the album "La Vida del Artista" by the latter.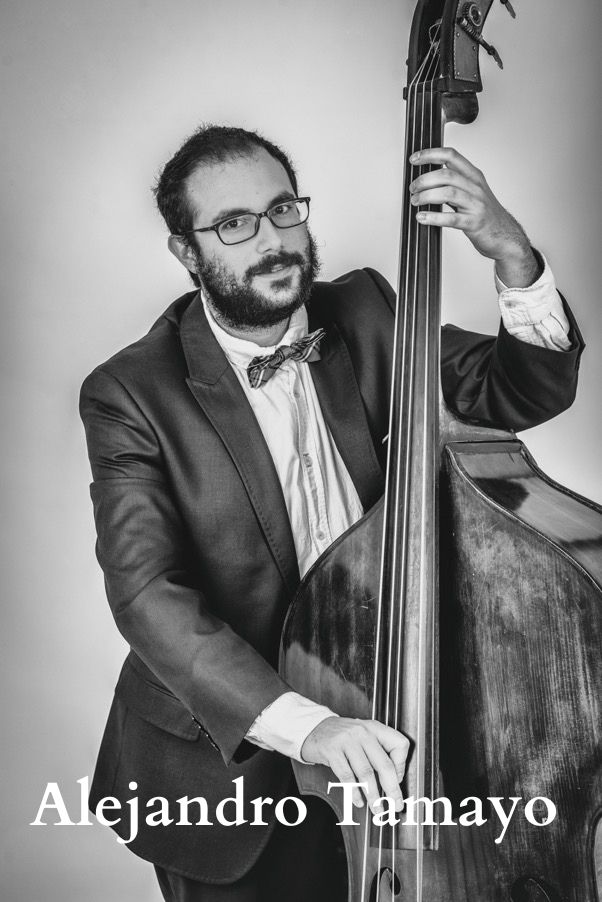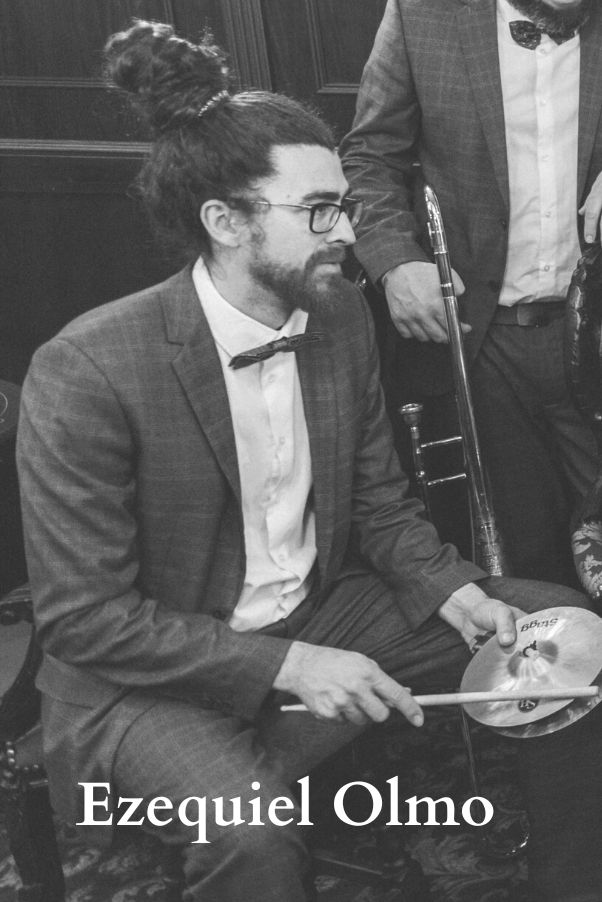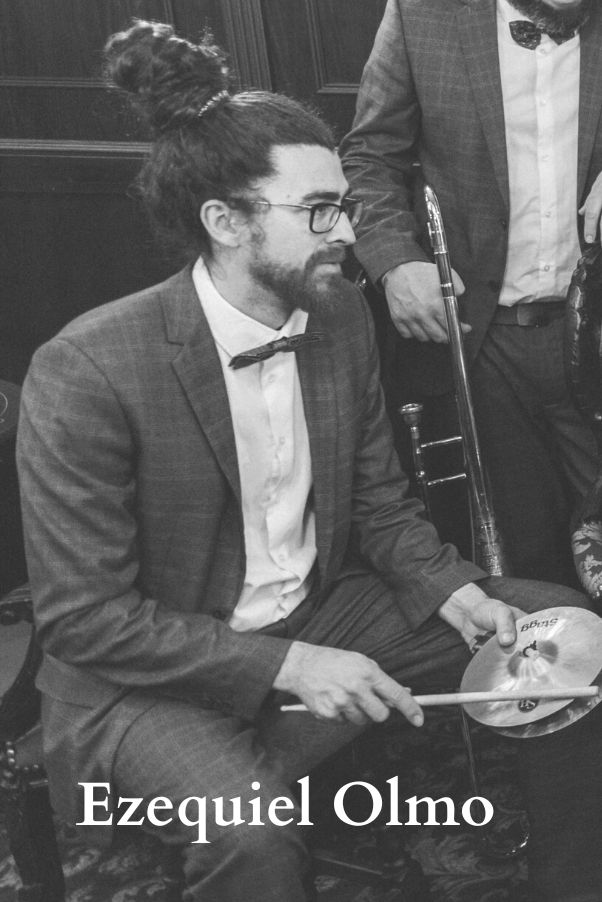 Ezequiel "Zeke" Olmo
Drummer and percussionist from Pozoblanco, Córdoba.
He began his musical career at the age of 15 in a flamenco group called "Zambra". He is the founder of projects like "Sr. Olm" or "Son de Nadie". In 2004 he joined the famous band Eskorzo from Granada, with whom he has toured around Europe and South America.
He has studied the roots of Cuban percussion, Brazilian music and South American rhythms, African music, flamenco and jazz with professors such as Justo Pelladito, Jose Eladio Amad, José Luis Quintana "Changuito", Giovanni Hidalgo, Horacio el Negro, Jaime Nascimiento , Crá ros, "Manden" Tete Zaldívar, Rubén Dantas, Chema del Estad, Niño Bruno, Pedro Barceló, Miguel Morales, Aldo Clavija, among others